This page is where you can find out what's new on 2aspire and in the Lincolnshire Adult Skills and Family Learning Service.
Last updated 25/05/2022
Jump to:
Adult Skills and Family Learning 'Learner of the Year' 2022 Ceremony
The Adult Skills & Family Learning Service are delighted to announce 3 very worthy winners of the 'Learner of the Year Award for 2022' the lucky winners are learners from; Abbey Access Training Centre in Lincoln, CLIP in Mablethorpe and Riverside Access and Training Centre in Gainsborough.
There was strong competition this year and one of the judges commented how tough it was to just pick 3, due to the wonderful stories.
The winners will be presented with their awards on 22nd June at the Lincolnshire County Council marquee at the Lincolnshire Show.
Apprenticeship Awards 2022
Apprenticeship champions celebrated at awards
The achievements of Lincolnshire apprentices, trainers and employers have been recognised at an awards ceremony in Lincoln, with winners across eight categories.
Highlights of the event included the presentation of the overall Apprentice Champion of the Year award to Molly Fitch from Louth. Nominated by First College, Molly completed a Customer Service apprenticeship through East Lindsey District Council (ELDC) and overcame dyslexia and self-confidence issues to achieve a distinction in her final assessment.
Apprentice Champions were also awarded in sector categories, with the winners being:
Health and care – Zara Lewis from Lincoln who undertook Level 3 Business Administrator with Lincolnshire Community Health Service.
Education – Christopher Fitzpatrick from Frieston in Boston who undertook Level 3 Digital Marketing at Brooks and Kirk (Assessor Training) Ltd.
Government and public services – Molly Fitch from Louth who undertook Level 2 Customer Service Practitioner with East Lindsey District Council.
Visitor economy – Ben Spencer from Faldingworth who undertook Level 2 Animal Management at The Parrot Zoo Trust in Friskney.
Construction, engineering and technology – Graeme Matthews from Lincoln who undertook Level 2 Engineering Operative at ProAmpac.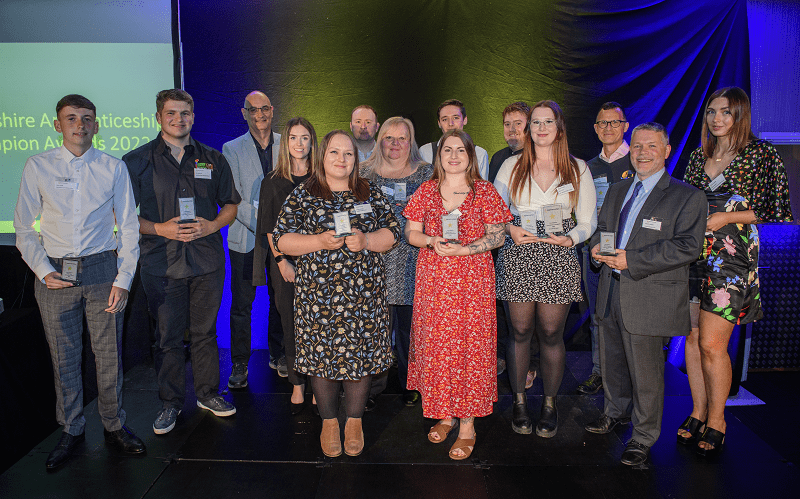 Cllr Patricia Bradwell, executive councillor for adult learning at the county council, and one of the award judges, said: "All the apprentice nominees had achieved personal successes as well as qualifications, so it was really hard to choose the winners! Those who came away with awards should be so proud of their achievements and show the huge variety of apprenticeships available for people of all ages and backgrounds."
In other categories, the Employer award was given to Boston Endeavour Academy – a special education (SEND) school that has worked closely with Boston College to train teaching assistants with the specialist skills needed to work in SEND settings.
Their Level 3 Teaching Assistant apprenticeship programme offers a range of additional training including Makaton and awareness of medical conditions, such as epilepsy and gastronomy feeding, and offers a supportive environment for their apprentices.
Clare Hughes, from the Greater Lincolnshire Local Enterprise Partnership, said: "Apprenticeships are a real priority for us and we recently launched our new apprenticeship strategy for the county. They are quickly becoming the route of choice not just for individuals, but for employers, recognising the tailored approach they offer."
Credit Services Association were the winners of the training provider award, having been nominated by Lincolnshire Trading Standards for compliance and risk training.
Gail Dunn, Chair of the Lincolnshire Public Sector Compact group said: "This was such an amazing event celebrating the achievements of all of the winners. It also provided a great platform for promoting and showcasing apprenticeships."
Twitter Feed